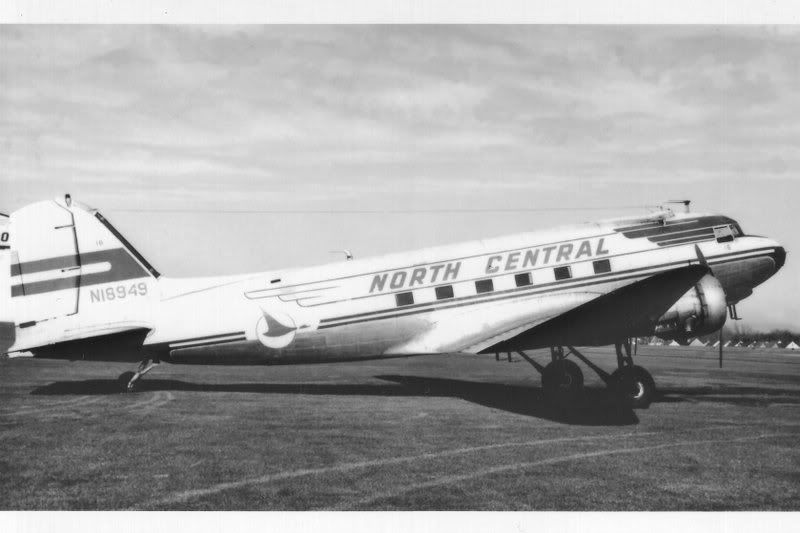 ATY (Watertown) had a nice building. It was crammed with such technology as VHF/HF Radio, ASR (Auto Send/Receive at 40 (later 75) WPM) teletype, ticket validater (customer weapon) telephone, ball point pens, TS-3's 3 x 5 Reservation Cards and o-24's (for on-off load records, MGL, a/c Wt & Balance for the Crew weight tab. In addition there were a couple manual operated bag carts and a 'muscle builder' nose loader. Oh yeah, there was also barrels of 'de-icer' fluid with mops and a long piece of flannel - if needed for winter grooming of a/c. Later, a couple of snow shovels appeared. In a few months time, after the tumble weed blow-by season, I was to enjoy pure glory of a South Dakota winter.

After a couple days closely 'bird-dogged' by the SM, it was time to earn our keep by working shifts - alone. It was during this period I learned some ATY and SM Sherman history. The most memorable was why I was so soon a 'replacement hire,' after Sherman opened the station just several months earlier. Seems the original staff had involuntarily departed, failing to match SM Sherman's expectations. And, since I had no desire to go back to the Army or the chicken farm, I paid close attention to SM Sherman's expectations, my first SA lesson. My first year in particular revealed many unique 'learning's.' These the result of surprises, always appearing at the most unexpected inconvenient time - requiring rapid 'cracking' of the books. Perhaps my many SA indiscretions are typical of an aggressive youth in their 20's (my excuse), while yet a full time student at the 'school of hard knocks.'

We had eight DC-3 flights daily. Two people were on duty each shift. first four flights, one headed each prime-compass direction, came and went in about a 30 minute period. Even though loads were typically light, it amazes me yet to this day, we could check-in passengers/baggage, write tickets, process express/mail, work weight & balance, handle a/c radio (in-range, ramp checks, ATC for IFR ops), load/unload aircraft, get FMR's (Flight Movement Reports) received/sent by teletype and work Reservation phones, while maintaining the scheduled 3 minute stop. One motivation was the required; Ground Delay 'write up' should we exceed stop time, knowing our 'our' justification (excuses) would be questioned - and they were!

Getting those Weight & Balance forms correctly prepared was kind of intense. There was little time for this exercise. Use of ball point pen was required, making last minute error corrections hard to erase - I do not recall an adding machine. Completed (often cleaned up) forms were kept on file. Their 90 day retention was plenty of time for GO types, most often 'cigar chomping' Regional Manager Richard Cooper, to appear for an audit and that our shoes were polished.

His first act was those files he just KNEW contained errors. Length of 'audit' was determined by time required to fill his yellow tablet with 'gigs.' Rare was his disappointment, his audit was of merit; he had typing work for his secretary. After enjoying the 'miracle' of Watertown's downtown 'Miracle Mile,' he'd retreat home smiling (he did that?) another 'dinging' success trip.

While flight time was hectic, agent activities were soon choreographed. Lacking the always lurking 'hiccups,' most days went smoothly. Flights 'bedded' down, it was coffee time, maybe a game, or two, of cribbage or gin, and noontime Paul Harvey, plus always the ringing reservation phone. Later it was 'Wind down' time at local watering holes, to view yet another Yogi-the-Bear and Land-of-Sky-Blue-Waters (nope, not forest fire prevention) poster. Other enjoyments were fishing the local creeks or lakes. Also, appreciated by local farmers, was trying to pick-off a few gophers - just a loud whistle, heads up popped and oops - another gopher done gone! During the fall we would even chase a few pheasants.

Meanwhile, and throughout the day, the reservation phone 'always' required prompt attention, incoming flights or not, hoping it was a simple itinerary to be concocted. Attendant to booking reservations was the continual maintenance of the NC Seat Availability Charts. Reservation results were recorded on a 3 x 5 Res Card (TS-3), prepared in block lettering, using a ball point pen. Making reservations to exotic places was a laborious process and our tools were rudimentary. No long distance phone calls permitted, such came out of SM Sherman's pocket money.